2018: Newton, Massachusetts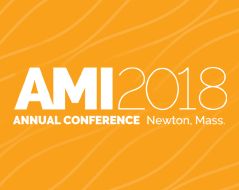 AMI's 73rd Annual Conference was hosted in Newton, MA, on the banks of the Charles River. Prominent Boston-area speakers such asJeffrey M. Drazen, MD and Eric Klopfer, PhD talked to us about high-quality data and educational games. Katrina van Grouw gave us a glimpse into her fascinating world of specimen preparation and unique zoological art. We were also inspired by all the speakers in full program that included sessions focusing on science, business and marketing, diversity, design and UX, as well as future directions for the field.
Visit the official AMI Annual Meeting 2018 site.
2017: Austin, Texas
AMI's 72nd Annual Conference was hosted on the campus of University of Texas at Austin! Speakers such as creature designer Terryl Whitlatch and bat conservationist Merlin Tuttle, PhD inspired us and got the creativity flowing.
Visit the official AMI Annual Meeting 2017 site.
2016: Atlanta, Georgia
AMI's 71st Annual Conference was hosted in Atlanta and was a meeting to remember! Speakers such as Eyewire and Street Anatomy took us to the frontiers of medical research, social media, and digital art that got our neurons firing and creativity flowing.
Visit the official AMI Annual Meeting 2016 site.
2015: Cleveland Clinic, Cleveland, Ohio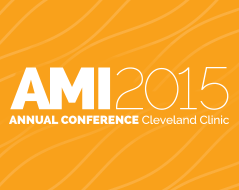 AMI's 70th Annual Conference was hosted in Cleveland and once again celebrated the creativity and talents of medical illustrators! The conference offered a diverse program with a breadth of content that included science, human anatomy, business, technology, and broad-based issues facing the world of image creators in heathcare.
Visit the official AMI Annual Meeting 2015 site.
2014: Mayo Clinic, Rochester, Minnesota
The 69th Annual Conference kicked off with a joint AMI Salon and BCA BioImages opening. The conference, held at the world-renowned Mayo Clinic, was dynamic and exciting as we introduced a new vigorously-paced schedule modeled after the popular TED series. Just a few of the featured topics included écorché modeling, mobile technology, and 3D medical imaging.
Visit the official AMI Annual Meeting 2014 site.
2013: Fusion: Salt Lake City, Utah
The 68th Annual Meeting of the Association of Medical Illustrators celebrated our role as premier medical communicators. We explored new scientific discoveries, cutting-edge media, and the latest in graphics techniques.
Visit the official AMI Annual Meeting 2013 site.
2012: Illuminate: Toronto, Ontario
For our 67th annual meeting, the Association of Medical Illustrators returned to Toronto! The conference focused on our unique ability to illuminate complex issues, with a robust program of world-class speakers. Their presentations described the many facets of our growing and ever-changing profession, while demonstrating the continuing importance of visual communication in the biomedical sciences.
Visit the official AMI Annual Meeting 2012 site.
2011: Monumental: Baltimore, MD
For our 66th annual meeting, the Association of Medical Illustrators returned to Baltimore! The AMI has held three superb meetings there, but our 4th was something special as we celebrated the 100th anniversary of our profession in its North American birthplace.
Visit the official AMI Annual Meeting 2011 site.
2010: Branching Out, Always Growing: Portland, OR
Our "Branching Out" theme fits the verdant venue, and also describes the wonderful turns our profession is taking. AMI members continue to display the diversity; ingenuity, adaptability and that keep us competitive yet collegial. We are constantly evolving our skill sets to suit our new markets, and exciting new business models are emerging. Our impulse to exchange ideas, techniques and strategies keeps our organization vital and growing in many ways, from root to leafy twig!
Visit the official AMI Annual Meeting 2010 site.
2009: Tradition and Transition: Richmond, VA

The 2009 AMI meeting's theme, Tradition and Transition, reflected the most positive thing about change: incorporating the best of the past into the best of the future. Taking the old and making it new again, repurposing for the better yet still respecting the inherent value of the original. Attendees enjoyed dozens of attractions including The Virginia Museum of Fine Arts, the Science Museum of Virginia, the Children's Museum of Richmond, the Virginia Aviation Museum, the Richmond International Raceway, Belle Isle, and Maymont Park and Zoo.
Visit the official AMI Annual Meeting 2009 site.
2008: Accelerate Your Career: Indianapolis, IN
There's energy in Indianapolis!
Energy was the buzzword of the 63rd annual AMI meeting held in Indianapolis, Indiana in July 2008. The elegant University Place Hotel and Conference Center was the venue for a meeting with a speed and energy theme, illustrated by the custom heart-themed Harley motorcycle designed by two AMI members and summed up in the motto: Come accelerate your career!
Visit the official AMI Annual Meeting 2008 site.
2007: BIG SKY: Bozeman, Montana
While the superb offerings of the AMI annual meeting are typically enticing in their own right, the July 2007 event in Bozeman, Montana was a rare and special delight! Bozeman, nestled in the eastern side of the Rockies near Yellowstone National Park, was the ideal small college town setting for our 62nd meeting held on the campus of Montanta State University. This meeting co-located with the GNSI meeting, providing additional opportunities for both groups.
Visit the official AMI Annual Meeting 2007 site.
2006: reDISCOVER Boston
Boston was an annual meeting of unparalleled adventure and discovery. The city of world-class medical centers, cutting edge biotechnology companies, innovative high tech companies and educational institutions that employ the most brilliant and creative minds was location for our 61st annual meeting. The elegant and stylish Boston Marriott Cambridge, located adjacent to the MIT campus, was the venue for this exciting, energetic meeting.
Visit the official AMI Annual Meeting 2006 site.
Click to view all Previous Meetings
60th annual meeting
2005
Cal. Lutheran Univ. (CLU)
Thousand Oaks, California
59th annual meeting
2004
Cleveland, Ohio
58th annual meeting
2003
New Orleans, Louisiana
57th annual meeting
2002
Austin, Texas
56th annual meeting
2001
Asilomar, California
55th annual meeting
2000
Rochester, Minnesota
54th annual meeting
1999
Atlanta, Georgia
53rd annual meeting
1998
Toronto, Canada
52nd annual meeting
1997
Baltimore, Maryland
51st annual meeting
1996
Cincinnati, Ohio
50th annual meeting
July 1995
Phoenix, Arizona
49th annual meeting
(World Congress on Biomedical Communications)
June 1994
Orlando, Florida
48th annual meeting
August 1993
Denver, Colorado
47th annual meeting
August 1992
Chicago, Illinois
46th annual meeting
August 1991
New Orleans, Louisiana
45th annual meeting
August 1990
Philadelphia, Pennsylvania
44th annual meeting
August 1989
Dallas, Texas
43rd annual meeting
August 1988
San Diego, California
42nd annual meeting
August 1987
Minneapolis, Minnesota
41st annual meeting
August-September 1986
Norfolk, Virginia
40th annual meeting
October 1985
Cincinnati, Ohio
39th annual meeting (BIO '84)
June 1984
Atlanta, Georgia
38th annual meeting
August 1983
Chicago, Illinois
37th annual meeting
October 1982
Anaheim, California
36th annual meeting
(International)
August 1981
Toronto, Ontario
35th annual meeting (BlO '79)
November 1980
Savannah, Georgia
34th annual meeting
August 1979
Kansas City, Missouri
33rd annual meeting
October 1978
Milwaukee, Wisconsin
32nd annual meeting
October 1977
Baltimore, Maryland
31st annual meeting (BlO '76)
June 1976
Las Vegas, Nevada
30th annual meeting
August 1975
Vancouver, British Columbia
29th annual meeting
October 1974
New Orleans, Louisiana
28th annual meeting (BlO '73)
July 1973
Richmond, Virginia
27th annual meeting
October 1972
St. Louis, Missouri
26th annual meeting
October 1971
Ann Arbor, Michigan
25th annual meeting (BlO '70)
August 1970
Houston, Texas
24th annual meeting
September 1969
Washington, D.C.
23rd annual meeting
September-October 1968
Chicago, Illinois
22nd annual meeting
October 1967
San Francisco, California
21st annual meeting
October 1966
Atlanta, Georgia
20th annual meeting
October 1965
Philadelphia, Pennsylvania
19th annual meeting
October 1964
Los Angeles, California
18th annual meeting
September-October 1963
Buffalo, New York
17th annual meeting
October 1962
Detroit, Michigan
16th annual meeting
October 1961
Rochester, Minnesota
15th annual meeting
October 1960
Chicago, Illinois
14th annual meeting
October 1959
Seattle, Washington
13th annual meeting
October 1958
Dallas, Texas
12th annual meeting
October 1957
Montreal, Canada
11th annual meeting
October 1956
Iowa City, Iowa
10th annual meeting
October 1955
New York, New York
9th annual meeting
October 1954
Nashville, Tennessee
8th annual meeting
October 1953
Baltimore, Maryland
7th annual meeting
September-October 1952
St. Louis, Missouri
6th annual meeting
October 1951
Toronto, Canada
5th annual meeting
July 1950
San Francisco, California
4th annual meeting
October 1949
Boston, Massachusetts
3rd annual meeting
September 1948
Chicago, Illinois
2nd annual meeting
September 1947
New Orleans, Louisiana
1st annual meeting
September 1946
Philadelphia, Pennsylvania