Tim Hengst Receives Lifetime Achievement Award
The AMI Lifetime Achievement Award is the highest honor awarded by the AMI to an individual who has dedicated his or her professional life as a medical illustrator and, in doing so, has engaged with fellow illustrators to not only support the ideals of the profession but also to insure it thrives, progresses and advances our Association. It is with great pleasure that we acknowledge Tim Hengst as this year's recipient of the Lifetime Achievement Award.
Tim Hengst, professor at his alma mater, California Lutheran University, and Chair of the Multimedia Department.
Born in Los Angeles, he considered himself a true "Golden State" golden boy. Tim grew up surrounded by a large, caring family. High school was where Tim found his interest in art.
Tim attended California Lutheran College majoring in art. But after signing up for an anatomy class to fulfill his science requirement, he discovered a new fascination with the workings of the body. He then pursued graduate studies and was accepted into the medical and biological illustration program at Johns Hopkins University.
Immediately, Tim showed promise. Ranice Crosby was especially proud of his pen and ink style, but still kept him in line. As the cool, California-born, social director, he organized most of the parties, quickly becoming both the leader and clown of the class. That still didn't stop him from excelling in the program and graduating on time in 1974.
Always wanting to return to California, he soon got an offer he couldn't refuse. It was a position with the legendary Dr. Denton Cooley, a busy and prominent heart surgeon working in Texas. Together with Barbara Hymes from the Hopkins class of '72, they finished Dr. Cooley's first book of cardiac surgery. They were followed in that position by Rusty Jones and Bill Andrews from UT Southwestern.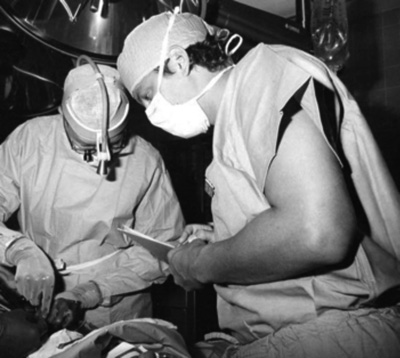 Tim Hengst (right) working alongside the legendary cardiac surgeon Dr. Denton Cooley (left) at the Texas Heart Institute in Houston. Heart transplant illustration that exemplifies Tim's expert skills in both pen and ink, and on the subject of cardiothoracic surgery.
The medical illustration department and program at Hopkins were growing, and Gary Lees convinced Ranice and the ophthalmologists at Wilmer Eye Institute to bring him back to Baltimore in 1977. Upon his return to Hopkins, he quickly became a team player, the go-to guy, a great teacher-mentor. Pen and Ink was still his go to media but he certainly showed high skill in other challenging media such as carbon dust.
Illustration of a vitrectomy that depicts Tim's versatility with both style and subject.
Illustration by Tim Hengst of an aesthetic oculoplasty from one of his many published books, Oculoplastic Surgery Atlas: Cosmetic Facial Surgery, 2005.
Tim has been a professional member of the AMI since 1975. He has given the association countless hours of volunteer efforts. He returned to Hopkins just in time to lend a big hand in planning the 1977 AMI Meeting in Baltimore. He took charge of the Salon and coordinated a then-rare, multimedia event. Soon after the meeting he took on the editorship of the AMI News from 1978 to 1981, totally revamping its design and greatly shaping what the newsletter is today. In addition, he enjoyed teaching, and demonstrating at national and regional meetings.
From 1981 to 1984, Tim served as Awards Chairman for the annual AMI meetings. He solidified his commitment to association after being elected to the Board of Governors from 1981 to 1986, by serving 2 terms as Vice-Chair and 2 terms as Chair of the Board from 1984 to 1986. Along the way he made many friends.
When Tim left Hopkins in 1986 for the west coast, he co-hosted the 1988 AMI meeting in San Diego. He was an active member of the Accreditation Committee from 1986 to 1992, hosted the AMI Banquet as Garrison Keillor, became an inaugural Fellow of the AMI in 1988, served on the Sourcebook Editorial Board in the mid-1990's, and was a Trustee of the Vesalius Trust from 1990 to 1995.
Always a classic California dresser, his orange and green shirt became the highlight of the Denver meeting in 1993 when Jane Hurd and Carol Donner battled over it in the Alan Cole Vesalius Trust Auction. He literally gave the shirt off his back for student scholarships!
The true gift of Tim's leadership came through when he was elected as the President of the AMI in 1997. Not ready to rest on his laurels, he hosted and coordinated the program of a third annual meeting in Thousand Oaks, California in 2005. As mentioned, Tim is comfortable using most media, but still has a special knack for pen and ink. He has received over 12 awards at the AMI salon, quite evenly divided between tone and line, with 6 attributed to medical books and textbooks.
His versatility is also evidenced in the subject matter he depicts. While he is known for his expertise in ophthalmology, Tim is really a multi specialty illustrator.
Now, home back in Thousand Oaks, Tim is settled in as a very active freelancer and has illustrated over 50 medical textbooks. He is an attentive Dad of three successful, active and married kids and now has three grandchildren. In addition to freelancing, he was invited to join the faculty of his alma mater, California Lutheran University, in 2001 where he began teaching digital art and multimedia, and chair the Multimedia Department. In 2010 he was promoted to Professor.
"I love all aspects of art," Tim says. "Science is a real right-brain phenomenon, while art is a left-brain phenomenon. Not many people are able to cross over between the two, but it's something that's always come kind of naturally to me."
Upon accepting the award, Tim commented, "This Association remains strong and relevant because of the strength and commitment of its members. Quality work, strong leadership and a commitment to excellence, on display everyday in the work that we do in service to the scientific and medical communities."
"If I can leave you with one thought: Over the years of my AMI membership, especially when a dues increase is discussed, a question always seems to focus on what benefits we get from our AMI membership. I would rather that you focus on what benefits the AMI gets from having you as a member. That becomes a sustainable model for our future."
Written by Gary Lees
Listen to an audio interview http://www.kclu.org/2013/08/20/south-coast-university-professor-also-national-honored-medical-illustrator/
View Tim's work at thengst.com
Sketching for Science, Thousand Oaks Acorn
http://www.toacorn.com/news/2013-08-29/Community/Sketching_for_science.html