Gary Schnitz Receives AMI Lifetime Achievement Award
The AMI Lifetime Achievement Award is the highest honor awarded by the Association of Medical Illustrators to an individual who has dedicated his or her professional life as a medical illustrator. In doing so, this individual has engaged with fellow illustrators, not only to support the ideals of the profession, but also to insure it thrives, progresses, and advances our Association. It is with great pleasure that we acknowledge Gary Schnitz as this year's recipient of the Lifetime Achievement Award.
Although born in Indiana, Gary grew up in West Salem, Illinois and attended Edwards County Senior High School in Albion. His early interests were in science, art, and journalism, and he served as editor of the school newspaper. Following his high school graduation, Gary enrolled at Eastern Illinois University in Charleston with majors in art and life science, and later was accepted into the Medical Illustration program at the University of Illinois in Champaign. Gary continued his medical illustration studies at the University of Illinois Chicago, receiving his Bachelor of Science degree with academic honors in 1975. Gary later completed his master's degree at the University of Illinois as well.
Gary Schnitz - 2014 portrait
Following his graduation from UIC, Gary was hired as a medical illustrator by fellow illustrator Don Biggerstaff, who at the time served as Chief of the Medical Illustration unit at Southern Illinois University School of Medicine in Springfield. Don not only was Gary's supervisor at SIU, but he became a mentor and close friend as well. Gary later was appointed as a faculty member in the medical school's Department of Medical Education, Division of Biomedical Communications.
Gary was employed at SIU School of Medicine in Springfield, Illinois following his graduation from UIC in 1975. Gary received the AMI Outstanding Service Award from John Martini and Marcia Hartsock at the 2005 AMI Thousand Oaks (California) annual meeting. The Award was presented at the Ronald Reagan Presidential Library located in Simi Valley.
The medical illustration department and program at Hopkins were growing, and Gary Lees convinced Ranice and the ophthalmologists at Wilmer Eye Institute to bring him back to Baltimore in 1977. Upon his return to Hopkins, he quickly became a team player, the go-to guy, a great teacher-mentor. Pen and Ink was still his go to media but he certainly showed high skill in other challenging media such as carbon dust.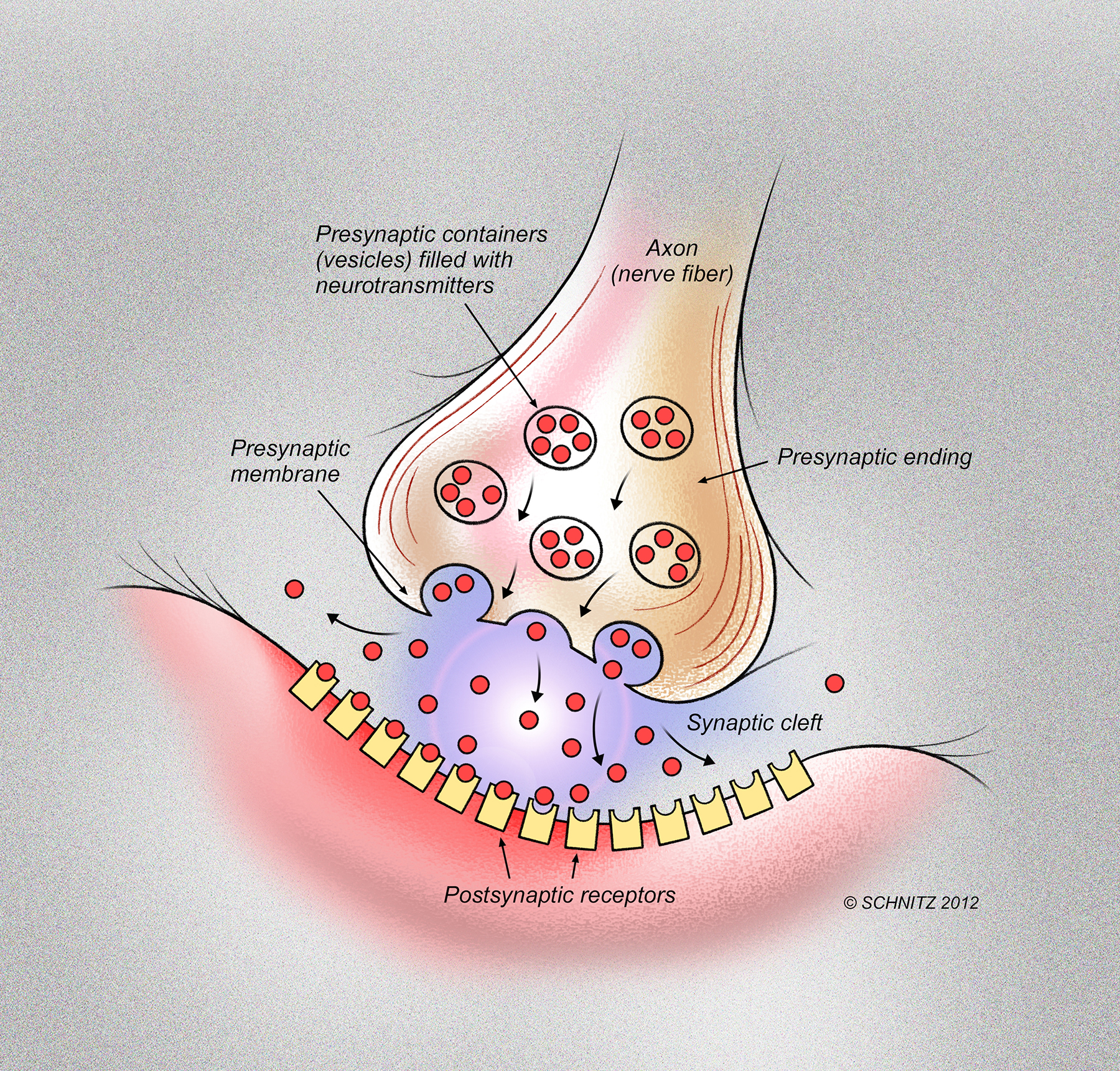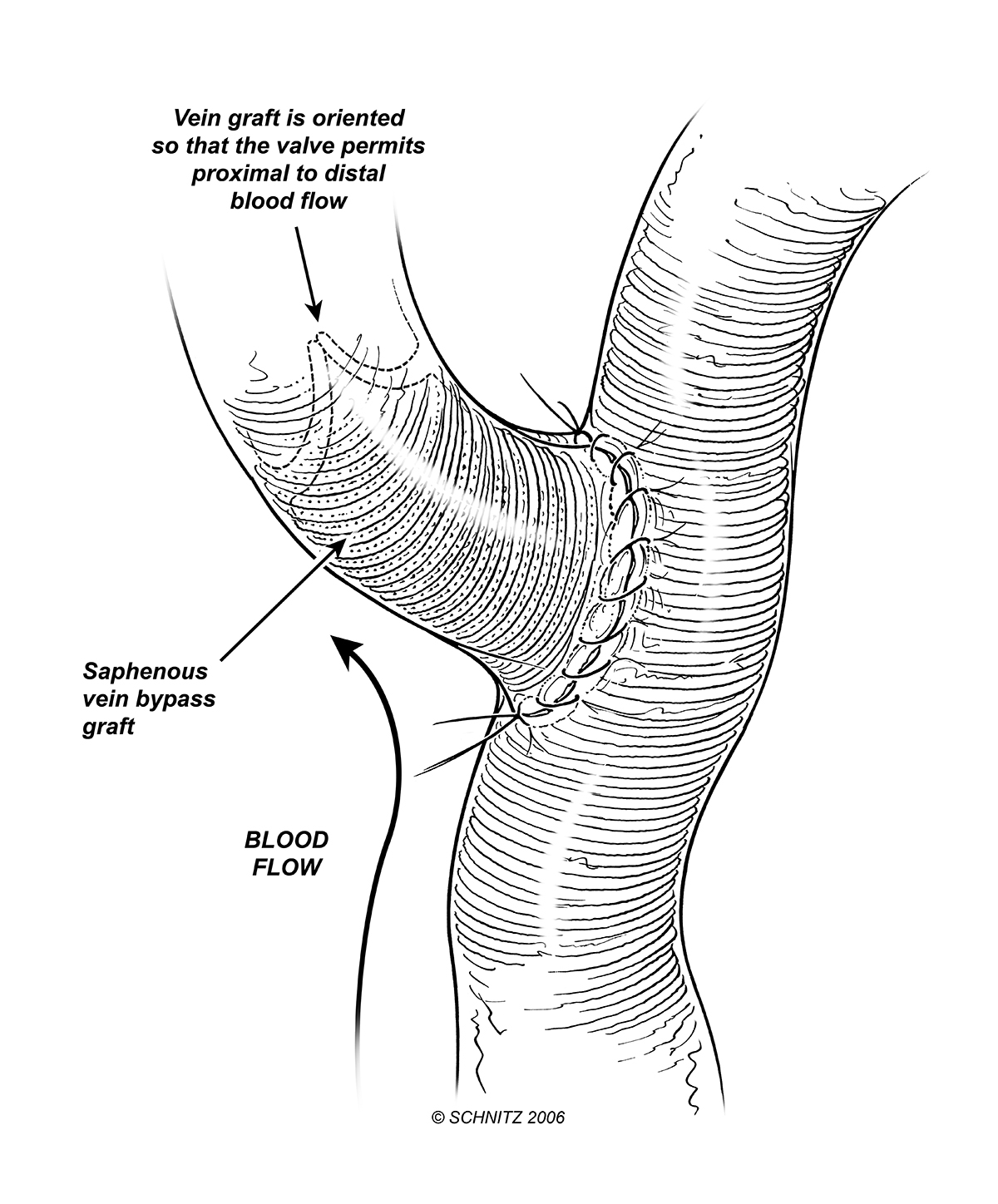 Illustration of one of Gary's full-color medical illustrations of a nerve synapse. Line drawing of an end-to-side venous microanastomosis.
During sabbatical leaves from SIU in 1981 and 1983, Gary worked as a medical illustrator and Professor in Residence at the University of Lausanne and the Clinique de Longeraie in Lausanne, Switzerland. While there, Gary worked with a group of hand specialists and illustrated the Swiss microsurgical text, Chirurgie de la Main. It was during this time that Gary developed a keen interest in upper extremity anatomy and hand surgery. Gary's illustrated work at that time appeared in numerous European scientific journals, and was featured in exhibitions at the Musee de l'Elysee and the Foundation Claude Verdan - Musée de la Main in Lausanne.
In 1984, Gary's interest in the upper extremity drew him back to his Indiana roots, and he accepted a position with the Indiana Hand Center in Indianapolis as the Director of Medical Illustration. This medical illustration unit was located within a large orthopaedic center affiliated with St. Vincent Hospital and the Indiana University School of Medicine. The Indiana Hand Center became the professional home for Gary for the next 28 years. While working at the Hand Center, Gary illustrated countless presentations, journal articles, and textbook chapters relating to surgery and rehabilitation of the hand. Gary also became the first non-physician member of the American Society for Reconstructive Microsurgery, and he was appointed Chief Medical Illustrator for both editions of Master Techniques in Orthopaedic Surgery - The Hand (Lippincott Williams & Wilkins, publishers). In 2000, Gary was selected as the Chief Medical Illustrator for the Journal of the American Society for Surgery of the Hand.
Gary's active membership in the Association of Medical Illustrators began in 1977. Since that time Gary has served in many leadership positions for the AMI and has given countless hours of dedicated service to our Association. He has served on the AMI Board of Governors as a member at large and Vice Chair, and then advanced to the position of Chair of the Board in 1993. He has also served on AMI's Executive Committee, Membership Committee, Finance Committee, the Artists' Rights Committee, the Annual Meeting Committee, the World Congress Planning Committee, the Internship Committee, the Accreditation and Review Committee, Meeting Planning Council, the AMI Fellow Committee. Gary has been a member of the Board of Certification of Medical Illustrators since 1987, when it was only an AMI task force. Gary is a Founding Member of the Illustrators' Partnership of America, and he is a Past President of The Vesalius Trust for Visual Communication in the Health Sciences.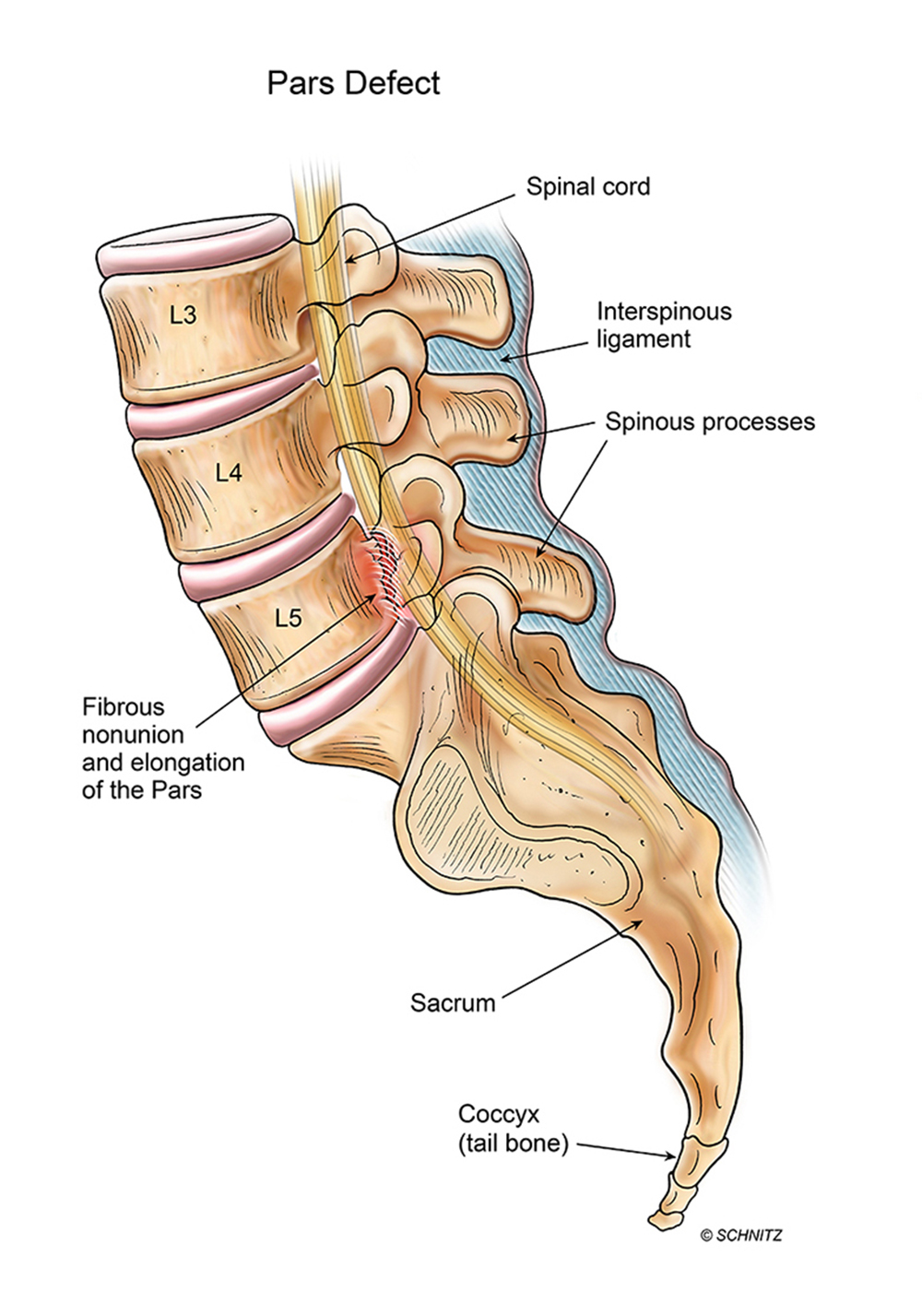 Full-color illustration of a pars defect seen in the lumbar spine. Illustration of a proximal femoral fracture reduced and stabilized by a hip fracture nail system.
Adding to his Association of Medical Illustrators leadership credentials, Gary was elected as President of the AMI in 2003. He presented one of the most heart felt Presidential Addresses on record. One additional highlight of his AMI service was his recognition at the Ronald Reagan Presidential Library as he received the AMI Outstanding Service Award.
Gary's AMI service continued in 2008, as he served as our annual meeting Program Chair and the Co-host (with Tom Weinzerl) for the AMI-Indianapolis meeting.
Since 1994, Gary has served as an AMI representative and JBC Board Member for the Journal of Biocommunication. His commitment to the Journal has been exemplary, and he has been a frequent publisher, contributing numerous Viewpoints, Publisher's Comments, and peer-reviewed articles. These have included: "The $100 XO Laptop: A Review of A Third-World Educational Effort," "The iPad Versus Lovers of Traditional Print," "Sketching Our Futures," "Securing Your Digital Assets," "Our Brain Trusts," "Becoming Small Business-Minded," "Climbing Ladders and Building Bridges," "We Could All Take a Lesson From Starbucks," "Our JBC Special Issue: Artists' Rights," and "A Look Back at the Analog Years in Biocommunication." In 2012 Gary' dedication to the Journal of Biocommunication was recognized, and he was presented the AMI Literary Award for his outstanding contributions to the JBC.
Gary has received numerous AMI Salon awards including first place, second place, and honorable mention awards for his illustration and exhibit design, as well as a three-dimensional vertebral model. What many of you may not know is that Gary has also been the recipient of many BioCommunications Association BIOIMAGES awards for his medical and scientific photography. These awards have included 12 first and second place awards in surgical photography, display transparency, natural science, medical still life, and black and white clinical photography. Gary's medical images have also received the Medical World News International Award (Heart - Mitral Valve) and the Smithsonian Institution's Gold Award (Thumbs - Range of Motion).
In 2012 Gary left his role as Director of Medical Illustration at the Indiana Hand Center in Indianapolis, and is currently employed as a private contractor for numerous Indianapolis-based medical, legal, and biopharma institutions.
Color illustration depicting an ulna fracture fixation technique using an intramedullary fixation system. Tone illustration depicting an eyebrow laceration.

Written and presented by Steve Harrison at the 2014 AMI Mayo Clinic annual meeting.
Gary's Acceptance Speech
I am so honored and humbled to receive this award. Without question, this is the highlight of my professional career. I'll cherish this. A number of individuals have helped me on my professional journey. First, I'd like to introduce and thank Mary Katherine, my wife of 39 years. My two children are here as well, Brian and Megan. Megan is finishing her first year of nursing school, and Brian has just graduated from Indiana University with a major in communication media. I love all 3 of you. Both Megan and Brian will have their resumes available in the back of the room.
My parents were so supportive of me while at the University of Illinois. I lost my Dad just last year. However, my 92-year-old mother is still living. I told her recently about my upcoming award … and she said "Oh, that's good." Mom, I couldn't agree with you more; it is good.
My UIC faculty inspired me to succeed. My teachers, Hooker Goodwin, Emil Hospodar, Bill Schwartz, Al Teoli, Bob Parshall, and of course Alice Katz, created such a great learning environment for our class of 8 students. It was Alice who called me earlier this year to tell me about receiving the Award. Alice you were so kind and gracious as one of my teachers, and 40 years later you've not changed a bit. Thank you for being a great role model for me.
My class members included my good friend Teri McDermott (who I'd like to thank for providing some great photos for this occasion), Judy Johnson, Susan Zimmerman, Sara Crenshaw-McQueen, Diane Anderson, Jan Wiltse, and Judy Howie. This was a great group, and I feel privileged to have known each of them.
Steve Harrison and I have developed a close friendship over the past 25 years. We both have a love of the AMI, the JBC, the BCA, and of course AUTO RACING. Steve has been a professional colleague and good friend. I love you buddy.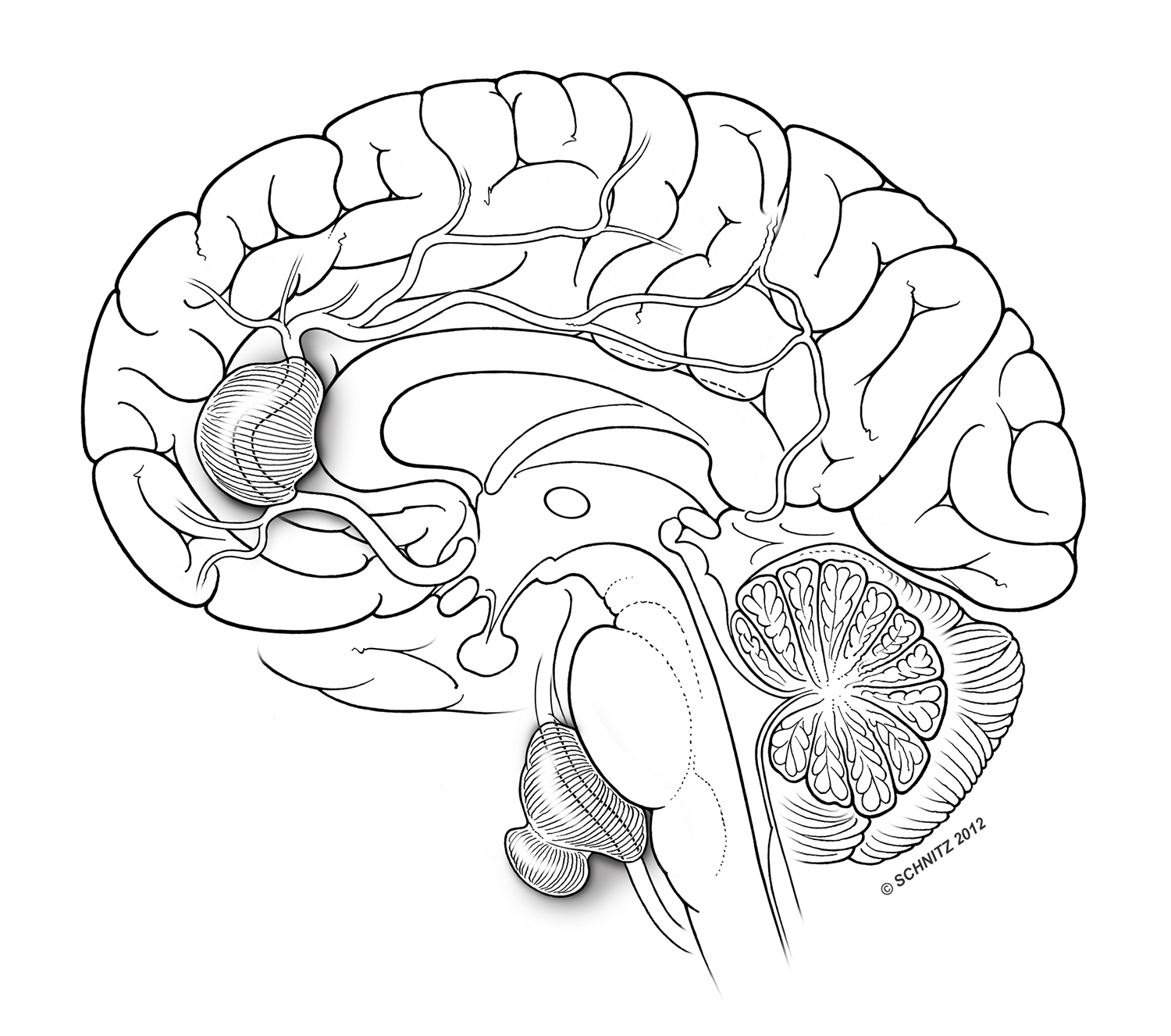 Line illustration of brain aneurysms. BioCommunications Association and Smithsonian Institution's Gold Award winner: Range of Motion of the Thumb
I worked for Don Biggerstaff as a summer intern in 1974. Working for a MCG graduate and a slow-talking "Southerner" was interesting. I loved working for Don, who didn't start out to be a mentor (after all this was just a summer job for me). But what a mentor he became! Following my graduation from UIC, Don hired me full time. He really didn't start out to be a friend (he just was my boss). But what a friend he became! Don was all-things-AMI, and many of his ideas later became AMI projects and programs. Don, I love too.
I'd like to conclude my comments and say something to the youngsters in the audience… you know the 20- and 30-something's out there. Maybe this is only your 4th or 5th AMI meeting. Maybe you're only a first-timer, and you simply came to see what the AMI is all about. Maybe you're a medical illustration student and you're sleeping 6 to a room with some classmates down the street at the Super 8 …yeah, you know who you are. But whatever your age, just know that the AMI is a wonderful community of friends and colleagues, some of whom you'll only see once a year …so cherish each annual meeting.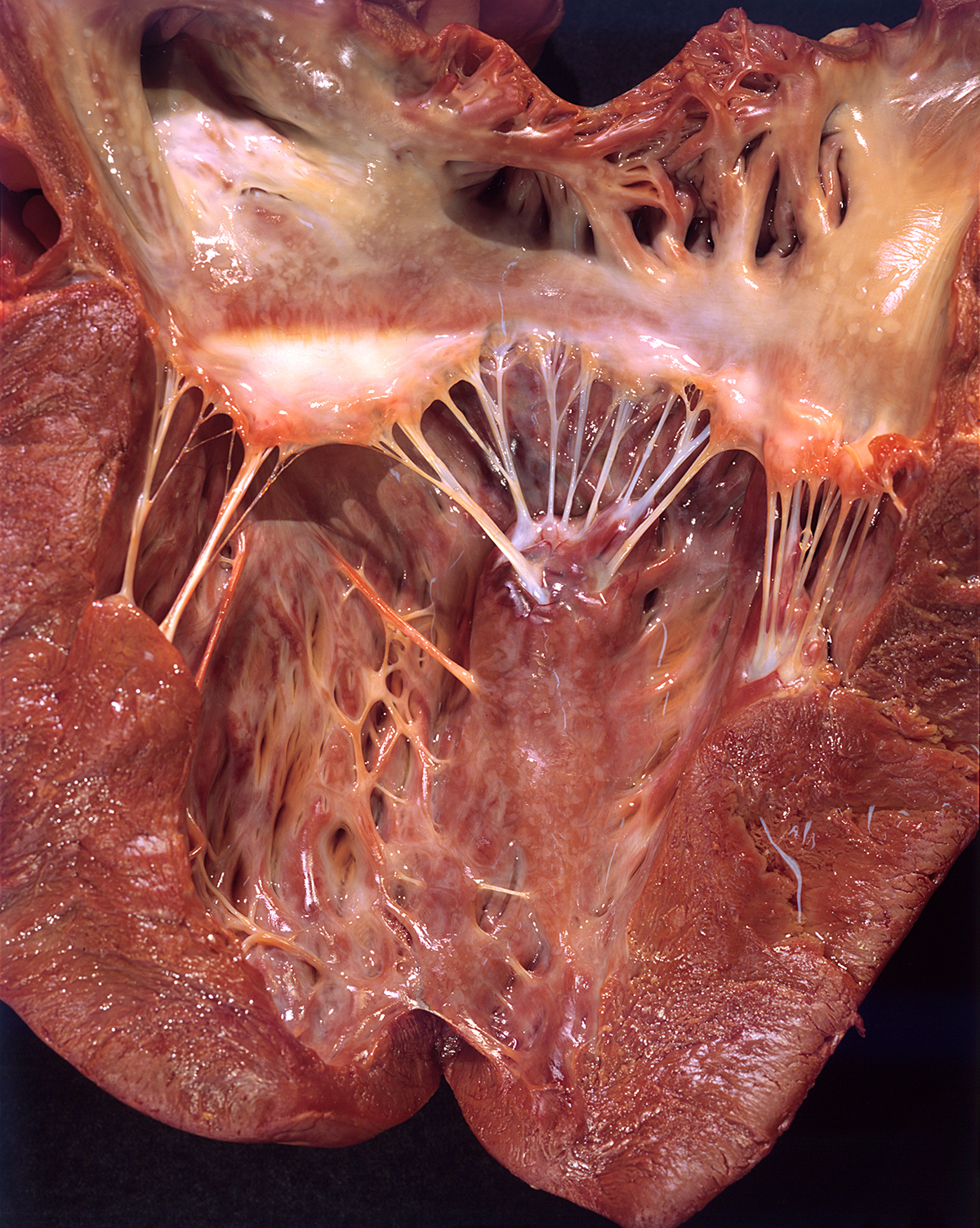 Medical World News Award Winner: Mitral Valve - Human Heart
So to you youngsters… become an AMI member (if you have not already). Keep paying your dues, even during those times when it may be financially hard to do so. (Believe me, I can remember some of those years.) Join an OMC focus group, find an AMI Mentor, take a workshop, and join an AMI Committee or two. You'll be amazed at what can happen. Remember that the AMI has no fences or walls to divide us, only bridges and connections to join us together.

You've all blessed me so much. Thank you.
Gary Schnitz